The ULTIMATE CHESS GUIDE from thechessstore.co.uk
The Chess Store has one of the UK's largest ranges of chess sets. It's great to have so much choice, but sometimes it can be a little confusing if you're not sure which board to choose.
This chess guide is here to make the decision easy. Have a read through and we'll help you choose the perfect chess set for your needs and tastes.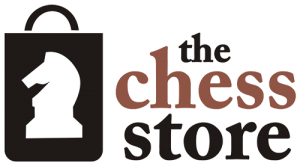 Contents:
• Pieces, boards and sets – what do they mean?
• An overview of different chesspiece and board styles
• An overview of different piece and board materials
• A new chess set as a timeless gift or heirloom
• Beginner, intermediate, pro – which set should you choose?
• Different situations and the ideal sets to go for
Pieces, boards and sets – what do they mean?
• Chess board – The board on its own with no pieces
• Chess pieces – A full set of 32 chess pieces without a board
• Chess set – A board with a full set of 32 chess pieces to play on
Here at The Chess Store, we have paired up some fantastic boards and chess pieces to form easy-to-buy sets which look great and are enjoyable to play with. However, feel free to mix-and-match your own boards and pieces from our range if there's a specific combination you like the look of!

An overview of different chess piece and board styles
There are many different types of chess design styles. However, some of the most common include:
Staunton – Staunton is one of the most well-known chess piece styles in the world, with the first Staunton style set being produced in 1849. This style of chess piece is a very safe-bet if you're entering the world of chess for the first time. The pieces are instantly recognisable and look great with most boards. You may notice that the vast majority of sets are based on the Staunton design.


Lewis chessmen/Isle of Lewis – If you're looking for something different, try Isle of Lewis chess pieces. These pieces are based on the design of the original set found on the Isle of Lewis near Scotland in 1831. Whilst the original pieces are now safely housed in museums, you can choose from a wide range of replica sets based closely on the original designs.
Themed – If you want something altogether different from the traditional chess piece style, try one of our many themed sets. For example the very popular Isle of Lewis Sets.
Board styles – There are no dedicated chess board styles, so it's usually best to browse through our range to find one which suits your tastes. Most boards have a fairly modern style with the use of wood grains to add that traditional look. Different colours are also available with the use of dyed woods.
An overview of different piece and board materials
Materials in chess pieces and chess boards can vary depending on your preference and budget. Here are some of the most common materials used:
Chess Pieces

Boxwood – This beautiful grained wood is commonly used to create chess pieces for medium-to-high range sets. It's an attractive, dense wood with a naturally light colour to act as the 'white' in a white and black set. Boxwood can also be stained black if ebony wood is not used for the 'black' set.
Ebony wood – Ebony wood is a very dark, almost black wood. This makes it ideal as the 'black' of a white and black set. Ebony wood is commonly found in medium-to-high range sets.
Resin – Resin is a dense material which can be cast into intricate shapes whilst still feeling weighty in the hand. Whilst resin can be found in medium-to-low value sets, it can also be found in expensive sets where chess pieces have to be very intricate, as they can generally be shaped into better detail than wood.
Plastic – Plastic can also be cast into various shapes whilst providing an enjoyable feel during play. Plastic is usually found on budget value sets.
Metal – Some pieces can be created out of metal alloy for a very weighty feel in the hand and extra detail for more intricate chess characters.
Other types of chess piece material include glass, ceramic and stone.
Chess boards

Sycamore – This wood has a mild grain with a light colour and is often used in the veneers of light squares on high quality chess boards.
Walnut – This wood is much darker with a more vivid grain and is usually used in the veneers of dark squares on high quality chess boards.
Wenge – This very dark wood is ideal for the high contrasting dark squares on many deluxe chess boards.
Maple – Maple is commonly used as a very light wood to create high contrasting light squares on premium quality chess boards. It's commonly found partnered with a dark wenge wood.
Ebony wood – Just like chess pieces, ebony wood can be used in the veneers of dark squares on premium and deluxe chess boards.
Rosewood – Rosewood is commonly used in the dark squares of chess boards but has a slightly red tint for a more unique look.
Any boards with a combination of these woods should provide a smooth, premium quality playing surface, so the decision usually boils down to your own personal preferences in regards to looks and aesthetics.
A new chess set as a timeless gift or heirloom

The beauty of chess is that the pieces and boards can go from budget quality to some of the most stunning works of art. The finest woods and materials, combined with dozens of hours of craftsmanship by master artisans, can create beautiful chess sets which are the pinnacle of ornamental quality. This makes them ideal as gifts or family heirlooms.
If you're interested in a chess set which would be suitable for this purpose, take a look at our luxury range. There are some exceptional quality hand crafted sets, some in limited edition, which would stand the test of time for decades and make fantastic gifts to hand over or pass down through generations.
Beginner, Intermediate, PRO – which set should you choose?

The price and quality range of chess sets can vary dramatically, so here is a guide to the ideal choice of sets based on your level of commitment to the game.
Beginner – If you're a beginner, take a look at our value and mid-range offerings. Value may be better if you simply want to try chess, whilst mid-range is better if you expect to progress in chess and would like to invest in a set for long-term enjoyment.
Intermediate – If you're an intermediate player, we would advise looking at our mid-range sets, which are still great value whilst containing enough quality for an experienced player to enjoy. If you can see yourself progressing further in the game or simply want to treat yourself and impress your opponents, invest in a luxury set.
Professional – Top level players with tournament experience deserve the highest quality sets. With our luxury range, you can enjoy the finest woods and craftsmanship for the most enjoyable playing experience. It's also a wise investment for years of use and can even be passed down through generations. Plus, despite such fantastic quality, our luxury sets are still affordable to most players!
Different situations and the ideal sets

Want to try playing chess?
Try one of our value boards, which still provide good quality and a great look at an affordable price. You could also try a mid-range set if you think you will progress with the game. Our "Down Head Black Championship Chess Set Matching Board With Storage Box" is a great entry level set, as is our "16 Inch Ebonised Classic Chess Pieces With A Mahogany Chess Board And Box" set.
Want to play with family or friends at home?
Again, many of our value boards are great for in-the-home use, but if you want a more enjoyable playing experience, try our mid-range boards. Not only can they feel nicer to play with, but they're also more useful for decorative purposes if you intend to display your new chess set somewhere in your home. Try our "British Staunton Sheesham Chess Set, Mahogany Chessboard & Mahogany Chess Box" set, or even our "Classic Sheesham Chess pieces with 19 Inch Mahogany Chess Board And Box".
Want to play in a local club?
Many of our mid-range and luxury sets are perfect for this, especially if you want to impress your fellow club members! The more you play, the more you can take full advantage of the finest woods and craftsmanship, so take a look at our "Italian Prestige Collection.The Makassar Morphy Combination Chess Set" for a darker looking set, or our "Prestige Italian Olmo Chess Combination With Beautiful Giglio Asla Chess Board" for a lighter looking set.
Want to play in regional or national tournaments?
Whilst some mid-range boards offer enough quality, it may be worth investing in a board from our luxury range. Not only does this give you the pinnacle of enjoyment with so many frequent matches to participate in, but it also impresses your competitors and helps you to invest in a deluxe board which will really stand the test of time throughout many years of playing. Our "Supreme Chess Set with Luxury Palisander Ebony Chessboard & Burlwood Case" offers a luxury set at a mid-range price, whilst our "Championship Staunton Ebony Chess Set And Black Deluxe Chess Board" set is the height of quality if you're looking for the best around.
Want to play professionally?
If you're making a career out of chess, then a luxury board is the only way to go. The best players deserve the best sets to play with, and with so many games to play, it's only fair that you enjoy the finest materials and craftsmanship of the world's top chess artisans. The "The Walnut Winchester Combination – Italian Prestige Collection" set is a simply stunning investment to make, whilst our "Leningrad Walnut Prestige Combination With Walnut Rootwood and Maple Board" is simple beautiful.
There you have it!

Whilst some sets are more suitable than others depending on your level of experience and use of the set, a lot of the decision making simply comes down to personal preference. All of the chess pieces, boards and sets at thechessstore.co.uk are selected with quality in mind, meaning that no matter what you buy, you can always enjoy quality chess pieces and a smooth playing surface. Simply choose out of the 'value', 'mid-range' and 'luxury' categories based on the level of quality and craftsmanship you would like, and then browse through to find the right woods, grains and styles to suit your personal tastes.
Remember, if you don't like any of the chess piece and board sets on sale, you can simply create your own by buying individual boards and chess piece sets to create your own combination!